A dental filling is the procedure most commonly done in a dental office. Dental fillings are usually needed to remove decay within a tooth, or if a tooth has been chipped or fractured.
Decay in a tooth begins with the food we eat. If that food is left on the teeth, it turns into plaque, which is a soft, white or yellow substance and is easily removable by brushing and flossing. Over time, plaque will turn into a hard yellow substance called tartar, or calculus. Calculus cannot be removed by regular brushing and flossing, but with special tools used by a hygienist. When plaque is not removed, it starts to breakdown the hard outer layer of the tooth called enamel. Once it breaks through the enamel, it reaches the inner layer called dentin, which is much softer, allowing the decay to grow quicker. In some situations when the decay has not yet reached the dentin and is still very small in the enamel, the decay may be reversible. Having a dentist check your teeth every 6 months, depending on the individual needs, can help catch these cavities before they get too large. Another reason a cavity may occur is for people who have dry mouth due to genetics or medications they may take. The saliva in our mouth helps wash away plaque and helps remineralize the teeth. With that being said, some people lack the appropriate enzymes in their saliva, also making them more susceptible to cavities. If the cavity is not irreversible, the dentist will drill out all of the decay and replace it with a white or silver material.
A dental filling may also be needed if you chip or fracture a tooth from eating something the wrong way, falling or hitting your tooth. A chip can sometimes mean there is decay in the tooth, however, this is not always the case. Hitting a tooth the wrong way or falling can cause your teeth to chip or fracture as well. A dental filling is a good way to replace the chip, but depending on where the chip is or how large it is, the tooth may benefit from a crown. Especially if the chip or fracture is on a front tooth as you use these teeth to bite into things and a filling may not stay on very long with the force it feels in everyday life.
Most often the dentist will administer local anesthetic to reduce any sensitivity during the procedure. However, if it is a small chip or has only reached the enamel surface, freezing may not be needed. Depending on the location of the decay, a rubber dam is clamped around a tooth only allowing the teeth needed to be seen. This allows the dentist to work on the tooth without getting anything caught in the throat or having the cheek and tongue in the way. Decay is then removed within the tooth, and a restorative material is used to build the tooth back up to its regular anatomy. A tooth can be filled with many different materials such as a white material called composite or a silver material called amalgam. Though a tooth may have a filling, it does not mean it is free from decay. The remaining tooth structure is still susceptible to decay and must be cleaned daily to help maintain its natural structure.
Expressions Dental™ Dentists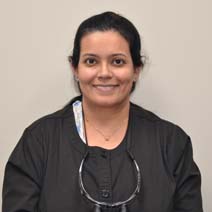 Dr. Gurpreet Gill
General Dentist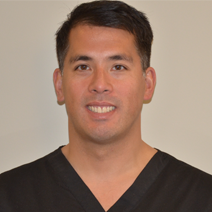 Dr. Dionysius David
General Dentist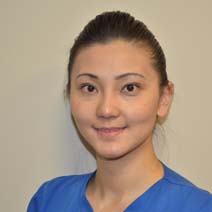 Dr. Jennifer Li
General Dentist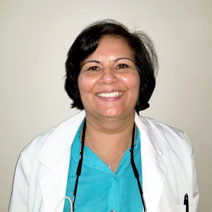 Dr. Neerja Khosla
General Dentist
All services are provided by a General Dentist.